Divi Plus Grocery Store Child Theme
Fresh and Vibrant Divi Child Theme for Grocery Enthusiasts and Online Stores
Multiple Pages For Different Needs
Divi Plus Grocery is the perfect Divi child theme for any online grocery store. This exquisite WordPress theme offers 06 stunningly designed templates including offers, shop, and blog layouts that enable you to showcase your wide range of grocery products in detail. Whether you deliver fresh produce, pantry essentials, or delectable snacks, this theme caters to all types of online food stores. With its user-friendly interface, you can effortlessly add or edit menu items without any coding expertise.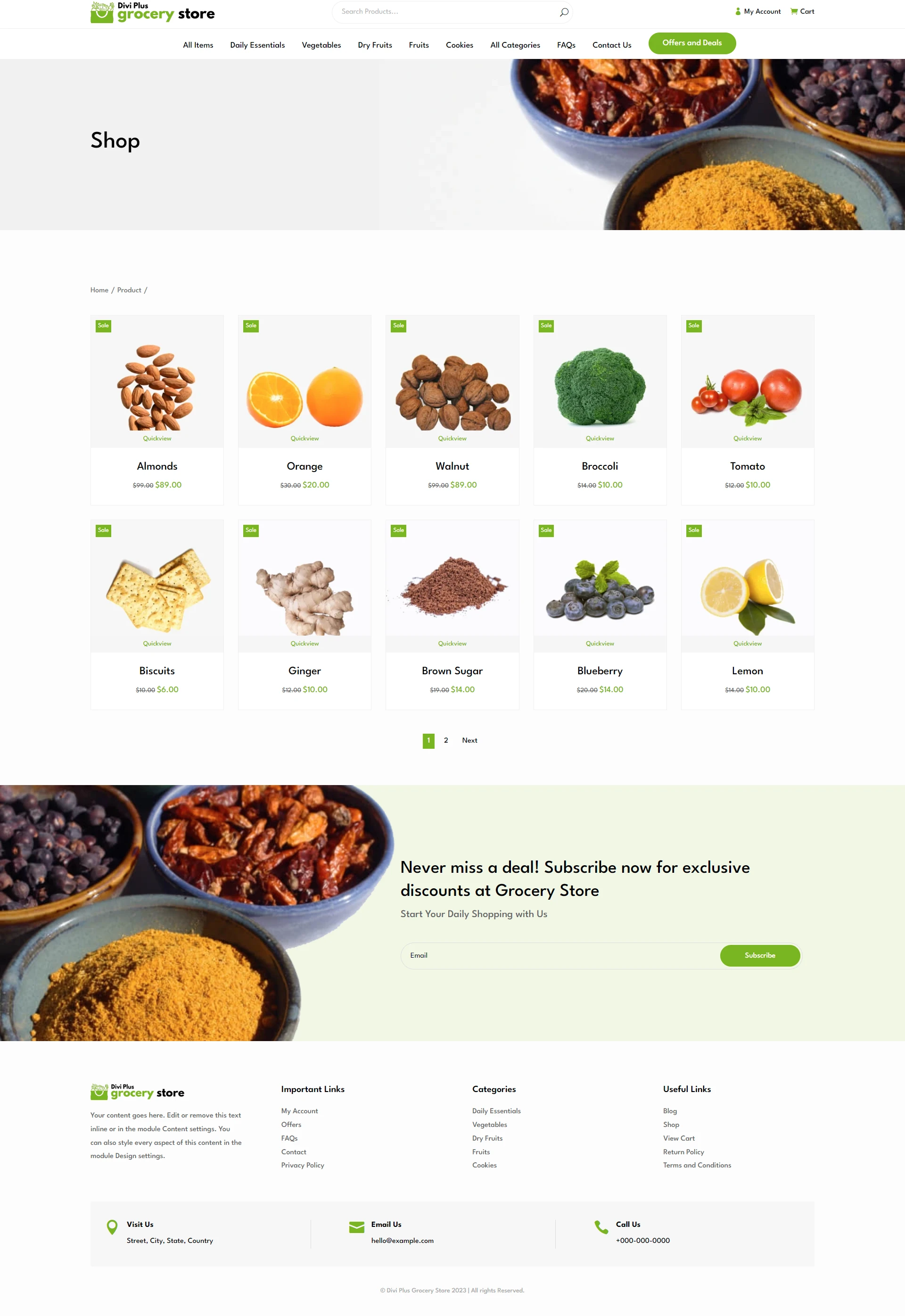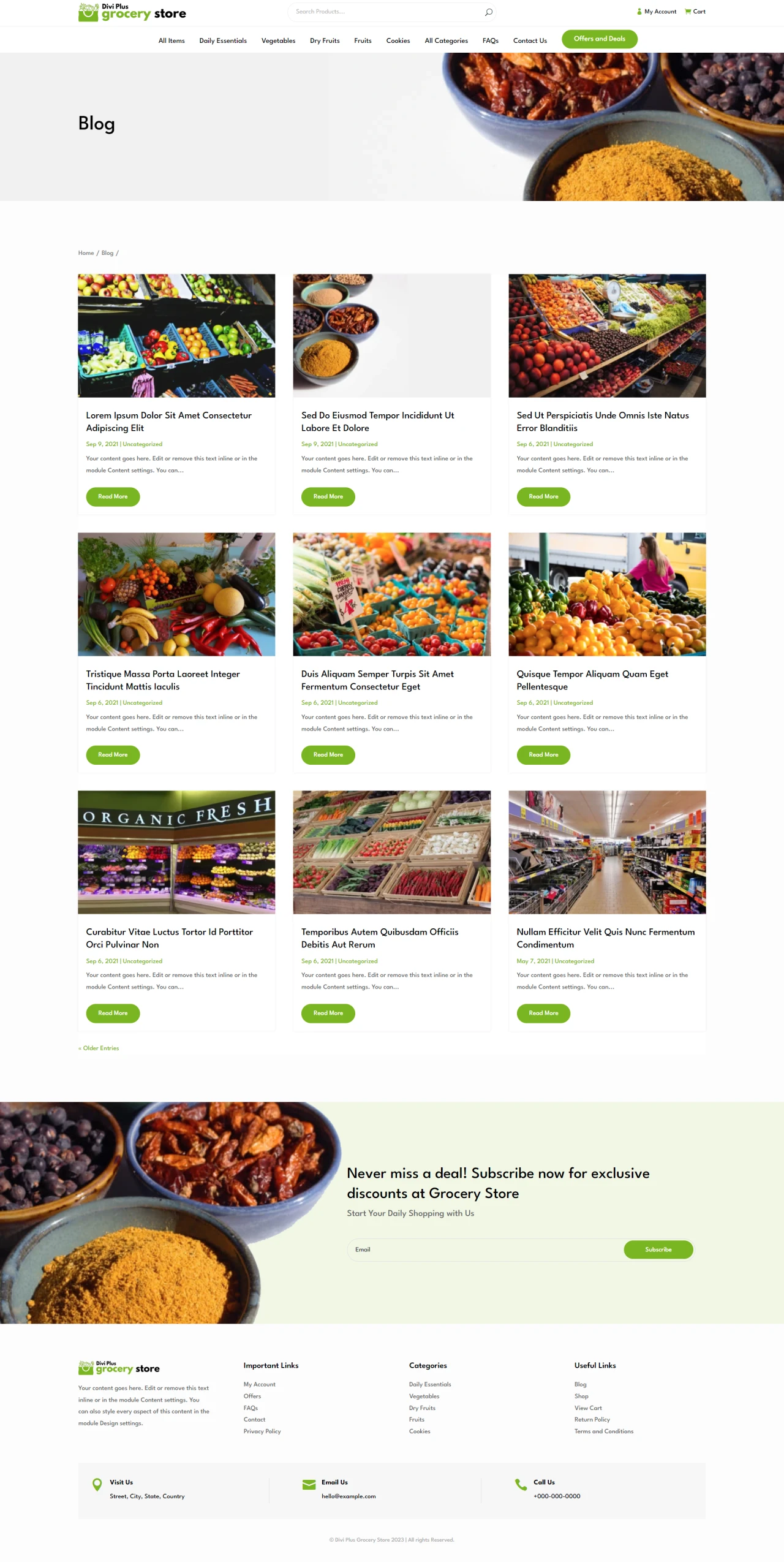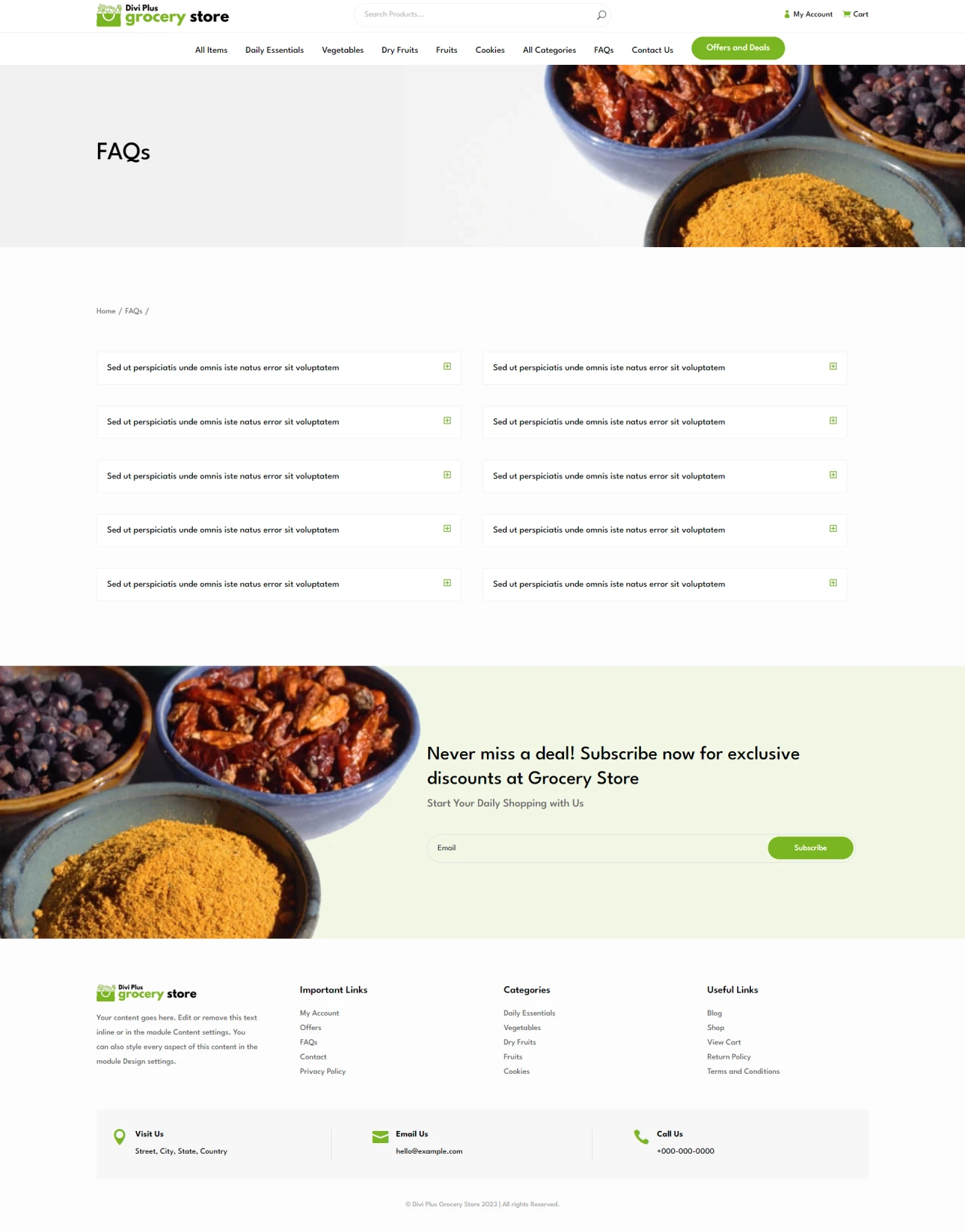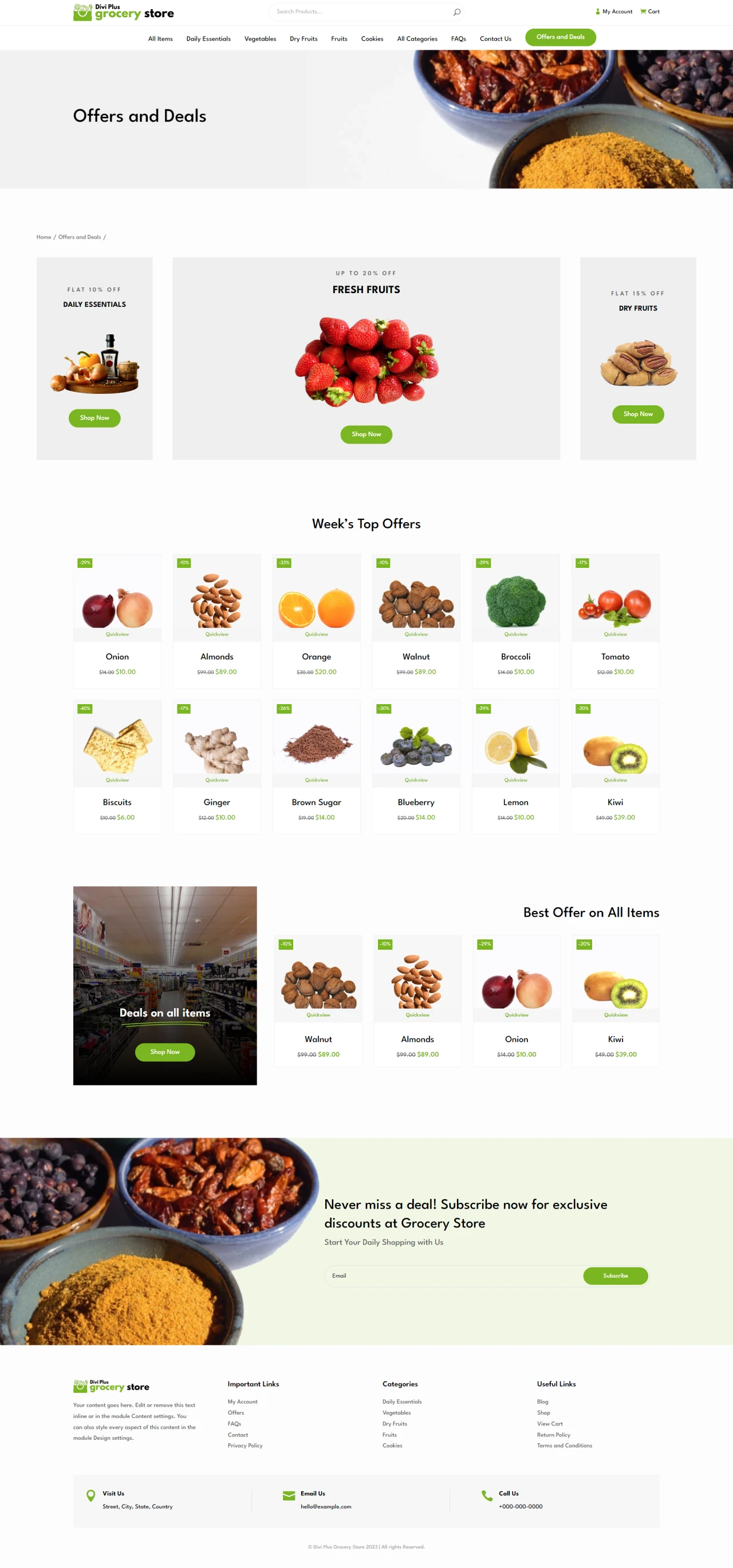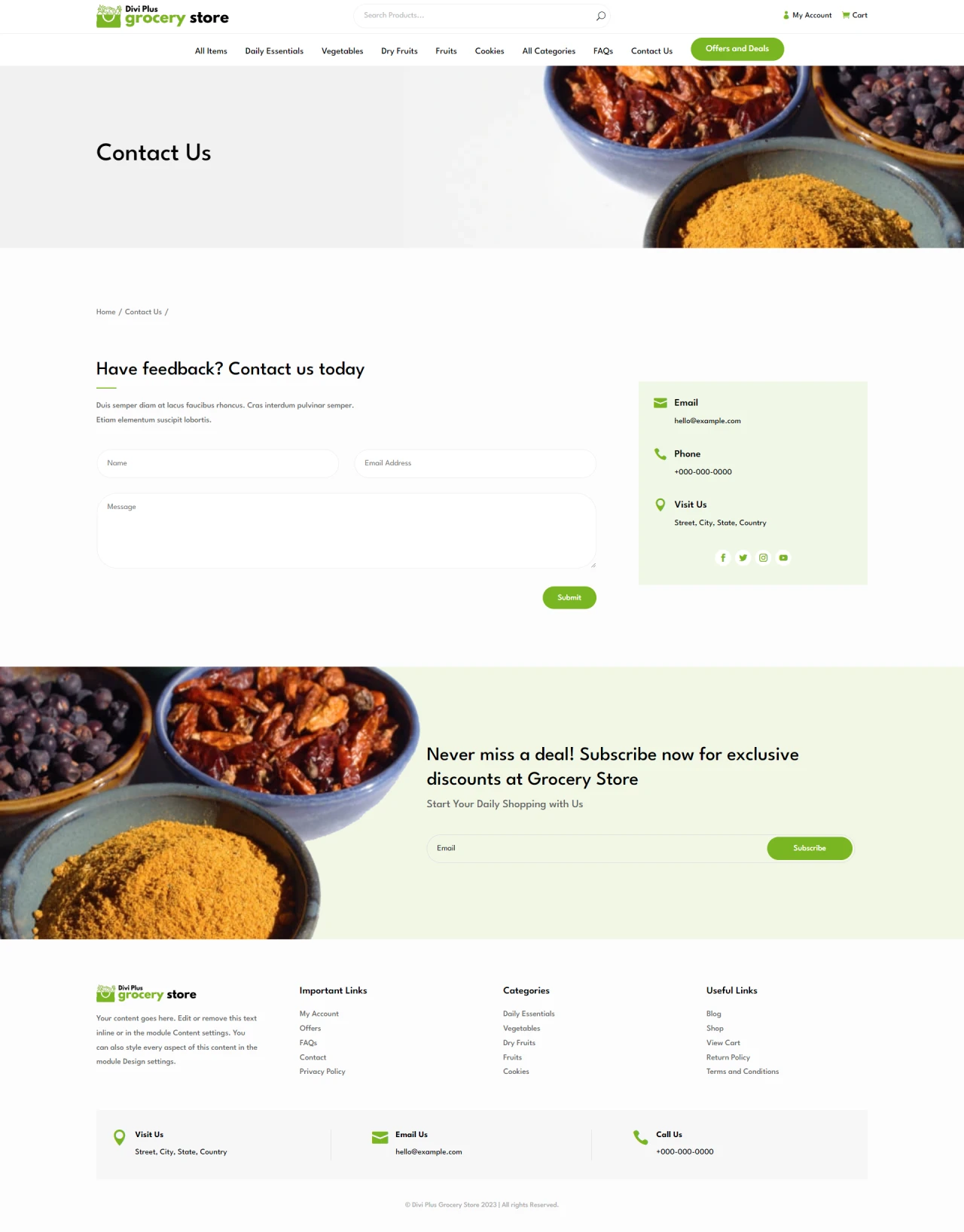 The Divi Grocery child theme is specially crafted for online grocery stores, offering an array of advanced and user-friendly divi plus modules that grant you full control over the design and elements of your website. With these tools at your disposal, you can effortlessly customize your site to enhance its appeal and create a shopper-friendly environment for your visitors.
Products Carousel
For Woo
The Divi Grocery child theme embraces simplicity and creativity in its six unique layouts, employing a harmonious blend of colors. The design aesthetic is accentuated by the use of the elegant League Spartan font, adding a touch of sophistication to both the main headings and body text. With this thoughtfully curated combination, the layout exudes authenticity, while maintaining a visually pleasing and user-friendly experience for your grocery store website.
League Spartan
Main Heading
All the images are CC0 and entirely free to use for any legitimate goal, you get all the access to alter, copy and share the images all without risking anything for approval.
Divi and Divi Plus Do All Magic
The Divi Plus Grocery Child Theme offers a seamless experience for online grocery stores. To utilize this template, you need to have Divi Plus, Divi, and WooCommerce as the fundamental requirements. It has been exclusively designed to cater to the needs of modern online grocery shops. With its smooth design and extensive customization options, this child theme empowers online grocery stores to create impactful online presences.